What is Managed Internet services?
Managed Internet Service Providers (MISP) are the connection between your company and the internet, but they also keep an eye on it to guarantee things go smoothly. They aren't confined to one provider, so you have a variety of options when it comes to your internet service and internet connectivity. They can assist you in finding the ideal connection for your needs. You'll hear from us when there's a rate increase, other than the occasional email or phone call we wouldn't be bombarding you with information. Every Managed Internet Service Provider is different, but here are a few benefits of working with one. A lot of managed internet services are there for peace of mind, ensuring that everything is working and functioning as it should without you having to constantly be on alert. A few of our services include: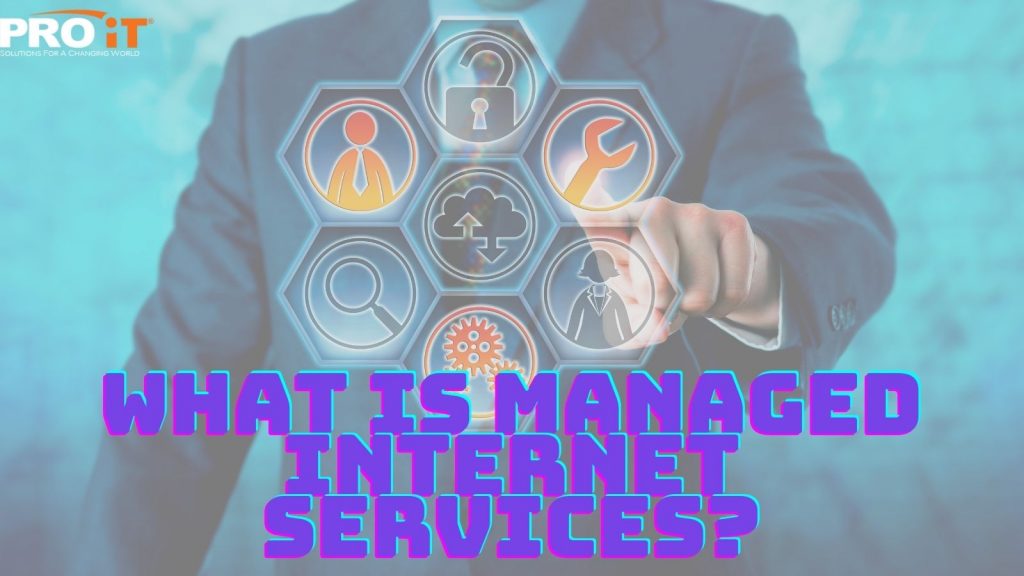 Managed Servers
Managed servers are a service that includes the hardware, software, and ongoing management of a dedicated server. The advantages of using a managed server from PRO IT are numerous. You not only have full control of your server, but you also have access to all of the hardware resources. For some activities, shared hosting is sufficient; however, when you've got a resource-hungry site that needs power. The power, stability and reliability advantages of our managed dedicated servers all stem from the fact that you're not sharing your server resources with any other users.
Managed Network Services
Managed network services are IT services provided by a third party for managing the infrastructure, software and technical support required to operate an organization's network. The entire system is entirely monitored and maintained by our 24×7 (GNOC) Global Network Operation Team based in Australia with 100% local staff. Types of Managed networks include solutions and services such as managed LAN, managed WAN, a fully managed gateway, managed wireless networks and other automated network support services.
Managed Colocation
Managed colocation allows you to pick and choose the services you want and creates a more customizable solution than a traditional dedicated server. If you own your own servers and are looking to achieve the same level of support as that of a dedicated server, managed colocation is a great option. You get the benefit of having your own servers, but you are still getting the benefits of having someone who is an expert in IT to manage all aspects. You could get rid of your dedicated servers or virtual private servers completely by opting for managed colocation instead. If you choose this, we will work with you to determine which services are best for you.
Managed Security
Managed security service providers (MSSP) deliver management and outsourced monitoring of systems and security devices. An MSSP can also handle upgrades, system changes, and modifications. Common services include managed firewall, intrusion detection, virtual private network security, vulnerability scanning and anti-viral services. Through our integrated technologies, unparalleled threat intelligence, and highly flexible managed services designed to meet the unique demands of your business. We can offer tactical support that allows you to outsource certain areas of your security operations centres. PRO IT brings to the table years of experience across high profile accounts.
Would You Benefit From Managed Internet Services?
Managed Internet Services continue to grow in popularity, there are many reasons why you would benefit from managed internet services. It can be time-consuming to try maintaining your own servers and network. By outsourcing this aspect of your business, you can save time and money while receiving the support of an experienced team of professionals. Working with a dedicated service provider allows you to reach more people due to better performance and reliability, which is vital if you are doing mass marketing or advertising. PRO IT provides managed internet services Australia wide that can cover all of your needs. We offer fully Managed Colocation with our Australian based 100% local staff. Many businesses are finding that managed internet services can provide the highest level of performance and reliability while saving them time, money and headaches. We at PRO IT pride ourselves on providing
Why Choose PRO IT?
PRO IT has been working in this industry for many years. We specialise in many locations within Australia as well as international locations such as Singapore. Our extensive work with cities all around Melbourne and Sydney have helped to streamline the process as well as improve costs. We take pride in our ability to perform quick and efficient solutions for all our customers. Whether it be wireless internet, fibre optic cabling, or something else entirely, we will work with you to find a solution that works best for you.
Catering To All Businesses
Our core business began in providing I.T and support services to Australian and New Zealand stock and foreign exchange trading platforms. We subsequently discovered that there was a growing want among small and medium-sized businesses for these services both locally and internationally.
Quality Assurance
Our team of service desk operators, engineers, project managers and management staff have in excess of 30 years' individual experience and contribute a broad, specialised wealth of knowledge in Information Technology. We are proud to have a proven solid and proactive reputation in the industry and aim to provide excellence in service delivery at all times. We know what we're capable of, but we also leave open the possibility for learning growth to adapt to each new development in technology.
Reliability and Trustworthiness
We understand that having an out of hours support service can be very essential for certain businesses. We offer Customer Relationship Management (CRM) tools that allow our clients to request support tickets and monitor support incidents and problems via a centralised web portal or by phone. Communication is always available because we understand it plays a vital role in establishing a healthy working relationship.
Real-time Monitoring
Having access to your own dedicated service desk using our online or telephone-based support systems, you are able to monitor all aspects of the managed services. This includes the ability to view network status, security events, detailed reports on hardware and software usage & availability as well as bandwidth utilisation statistics.
Making You More Secure
Our security services incorporate antivirus, spam filtering appliances and virus protection gateway. We ensure that all devices are kept up to date with current patches and updates. Penetration Testing is a great way to effectively evaluate your IT security weakness PRO IT undertake Penetration testing to detect, record and report any corrective actions to ensure your network is secure. For premium results PRO IT recommends Penetration testing should be scheduled on regular basis to ensure continued security. Network visibility, perimeter protection, and application-level attacks are all part of our security solution. PRO IT offers a wide range of award-winning industry-strength hardware, software, and high-level expertise to secure your company against cyberattacks that might compromise its Intellectual Property and core business functions.
Risk & Threat Analysis
IT security experts use IT risk management to identify, assess, and prioritize risks. Internal and external sources are examined in order to identify potential threats. An example of a risk is an employee introducing a USB drive without first scanning it for viruses into the company's network. The report will show any risks or issues, and PRO IT will provide a document to the company with suggested tactics and any required timeframes for action. PRO IT can also advise on how to achieve any business goals in relation to improving security monitoring and system police.
24/7 Technical Support
PRO IT offers 24/7 phone support for all our normal IT Support clients. We provide our clients with the assurance that no matter what time of the day or night they need us, we are there to help them. Our 24×7 Global NOC – Global Network Operations Centre (GNOC) is located in Australia and operated from our Melbourne and Sydney offices. Notwithstanding our locations, PRO IT GNOC and Service Desk provides the highest quality IT NOC support worldwide.
Contact Us Today
Choosing to work with the PRO IT team of experts can help give you peace of mind. We specialize in both business continuity and data protection strategies, so we'll be with you every step of the way as your managed service provider. Whether it's a data breach or ransomware attack that threatens your business, our services will make sure all is well again! Managed Internet Services might be just the thing you have been searching for. So, don't wait another minute – contact us today for more information on how we can provide 24/7 support through monitoring networks, managing systems & executing proactive risk management policies. We can go through terms and conditions together so you can feel comfortable about taking your next steps with us.